Schneider Electric is an international manufacturer of electrical equipment worldwide. But each country has different technical specifications for electrical distribution, so it is necessary to have production machines at such an advanced and modern level that products can be changed flexibly, depending on which country it is intended for.
We solved one such pleasant variable challenge together during the project to Latvia. It was a "Kaji" project for the Riga, Latvia production plant. Four hundred twenty variants of fire detection panels and their accessories are produced on this line. The biggest challenge was the variety of manual worksheets and integration into MES for more than 400-panel variants. The reason for the project was that Schneider Electric decided to move production to Latvia. The line design in the existing plant had an old concept with independent island production cells.
The goal was to develop a new production line according to current Schneider Electric standards. And it was necessary to integrate two functional testers transferred from the previous plant. A new industrial high-potential tester has also been integrated into one assembly line. The task of Automa CZ was to design, build assembly lines and integrate all three testers. Automa CZ also created the PMS system with the Schneider Electric team.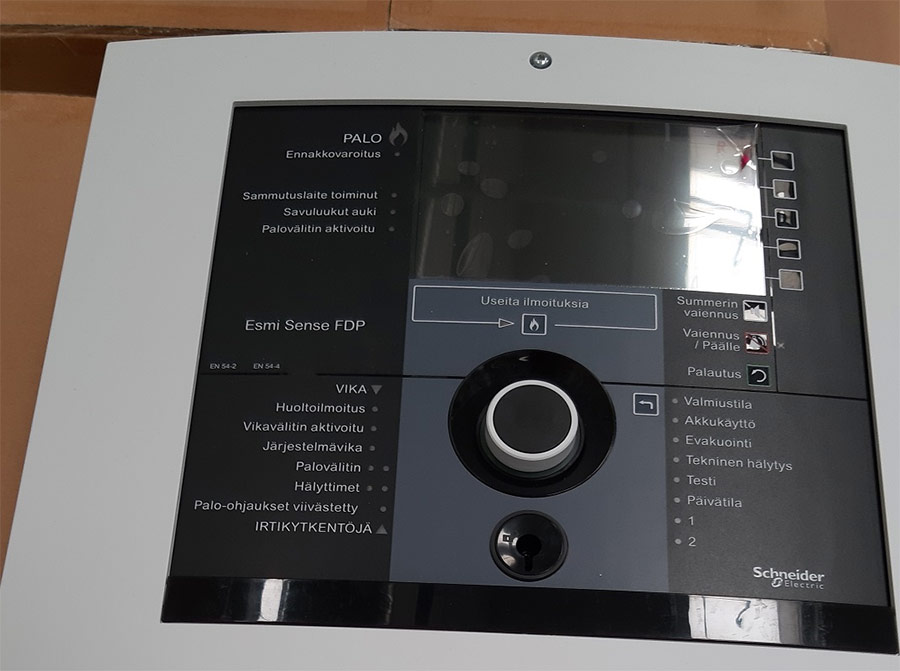 The line architecture contains pre-printing and pre-assembly process steps, assembly, testing, and packing. In principle, two similar assembly lines work separately and independently for the two leading product families, Fire Panels and Accessories.
The leading product lines are fire alarm panels, access control units, and accessories. The product mix is low-capacity, with one piece per year, and high-capacity, with several thousand parts per year. The total length of the line is approx. 20 m, the most extensive assembly line in the Lexel plant.
"It was a big project we tackled together with Automa CZ. We needed to set up an assembly and test line for 420 commercial references". Said Monika Lorenz, the project manager for the Schneider Electric Lexel plant.
Monika further clarifies: "During the entire project, there was very close and active cooperation between Automa CZ and the Schneider Electric team. The technical lead between the Schneider Electric team and Automa CZ at the Lexel plant was our Czech colleague from the industrial department.
The challenge for the whole team was the time constraint. Due to the transfer of complete production from a foreign country to Latvia, a high mix of products, and new industrialization, we have always been behind the times.
Along the way, we had a significant backlog, but thanks to the new industrial design of the line and good efficiency, we soon caught up with the production of the main items.
What we appreciate most about cooperation with Automa CZ is the fast and flexible approach, active communication, and excellent knowledge of industrial automation issues.
Thanks to this project and this cooperation, we can ensure the required production and variability without any problems and, above all, keep our commitments to our customers."